UK consumer surveys: what makes us all tick?
At BPI we invest in user-centric services, digital platforms and marketplaces, that make a difference in individuals' personal or professional lives and have the potential to reach millions of people over time. For this reason, we're constantly seeking to understand how consumers want to live their lives, determine what is most important to them and how they make decisions. This deep level of insight powers our investment theses across consumer digital categories from food to lifestyle, health to finance and education to privacy.
At the end of 2021, we surveyed over 2,000 people living in the UK (as nationally representative sample) and are excited to share some of the patterns that we found most interesting – we hope that these can help consumers, founders, and investors alike, understand more about what makes us all tick.
First of all, let's take a look at the relevance of sustainability in UK consumers' lives.
Sustainability
UK consumers are more aware of their environmental impact and responsibility to act against climate change than ever before. The BPI survey shows that 90% of the population are taking personal action against climate change, and this figure is even higher at 94% for people under the age of 35. This fact impacts the way that consumers view the food that they eat, the ways that they get around, more generally the goods and services that they buy, and even the company that they work for. As a result, every company out there will need to consider its environmental impact, how it measures this, and how it communicates and proves its green credentials to its customers.
Here are some of the key trends we spotted as we went through our survey results:
1. Consumers are keen to actively make a change to their lifestyles, starting with recycling and using less plastic
A huge two thirds of survey respondents are trying to recycle more consistently, and almost 6 in 10 people are consciously using less plastic. Other popular strategies for living more eco-conscious lifestyles include buying products only from certain brands who are purpose-led and align with sustainable values or reducing consumption overall.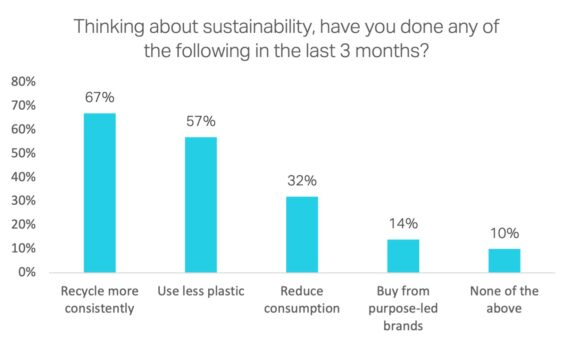 Consumers additionally reported a range of actions including:
🌿  FOOD – checking where the food they buy is coming from (i.e. local or further afield), only buying free range and higher animal welfare products, reducing the amount of food that they waste, following a plant-based diet, and even growing their produce.
🚌  TRANSPORT – trying to walk, cycle or use public transport more, and switching to lower emission personal vehicles (e.g. EV) or getting rid of the car altogether.
⚡  ENERGY – switching to green energy companies, saving water and electricity where possible, insulating homes, replacing old storage heaters for newer more energy efficient electric heating.
👜  FASHION – not following or buying into fast fashion trends, increasingly buying second-hand fashion.
2. However, consumers still face challenges and barriers when it comes to making more sustainable choices
While there is high intent amongst consumers to manage the impact their lifestyles have on the environment, there are often several challenges that they need to overcome.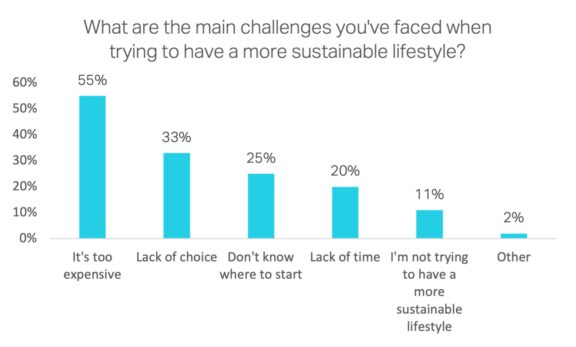 The main obstacle is the perception that a more sustainable lifestyle is a much more expensive lifestyle. While there continues to be a "green premium" with many sustainable consumption options (i.e. choosing the 'greener' option being more expensive than the 'regular' or less green option) we're very encouraged to see the impact that, technological progress, business model innovation and government subsidies, can have on lowering the cost of consuming sustainably.
We are optimistic that there is a significant opportunity for disruptive brands to challenge this perception and prove that they can offer solutions that are competitive in terms of pricing and affordability. For example, our portfolio company Oddbox, on a mission to fight food waste, offers fruit and veg box subscriptions (with a side of great customer experience!) at a mass pricing point. Hence Oddbox offers an easy way for consumers to be sustainable without compromising on how much they're spending.
Some sustainable options can even have a positive impact on our finances. For example, buying and selling clothes on Vinted, another company we've backed, can have a double positive effect: buying second-hand clothes on the platform saves money, and if you also decide to give some of your pre-loved fashion a second life, you get an additional income stream.
Other mainstream challenges include a lack of choice, not knowing "where to start" or not knowing whether information is trustworthy or truthful (the "greenwashing" effect) and having a lack of time to discover and implement lifestyle changes. While these challenges may appear to be unconnected, we feel that there is a common thread between them that leads to a clear message: there is a great need for clear and transparent information across the sustainability space.
We are looking forward to seeing more companies that enable a future of sustainability that is defined by clarity, authenticity, and accuracy. This will enable honest and effective lines of communication with (potential) customers about what their products and services have to offer. This in turn enables consumers to build a deep understanding of the choices they have and genuine trust in the brands that they choose, helping them to make the best possible decisions for them.
3. Will the future of sustainability be driven by existing or new and disruptive brands and companies?
When we asked consumers to share some of the brands that are helping them to live more sustainably, we discovered that 7 in 10 primarily look to legacy, global brands to adapt to the changing needs of their customers. Currently only 3 in 10 are looking to new and disruptive brands who challenge the status quo.
However, people who are under 35 are twice as likely to look for them compared with people who are over 55 (40% of under 35s reported this compared with 20% of over 55s). We believe this demonstrates a huge market opportunity for challenger brands, further broadened by generational shift over time, to continue to innovate and turn this statistic on its head over the next ten years.
In terms of specific brands that have helped people consume more sustainably, a couple of hundred people gave nods to supermarkets who were cutting back on use of plastics around their stores and offering higher welfare products (e.g. under Fairtrade product lines). The next largest group felt that local, independent shops helped them to consume more sustainably by sourcing high quality, local products. Other people reported good experiences using meal kits such as Hello Fresh and Gousto has helped them to cut down food waste, and switching out their old household and personal care products towards products with more natural and clean ingredients (e.g. eco-cleaning products from Ecover and Smol, deodorant from Wild).
Conclusions
Our market analysis has identified the following key success factors that should be highest priority for teams starting up and operating in this space:
💰 Reduce green premium
💡 Raise brand and proposition awareness
🌟 Clear and transparent communication around sustainable impacts and benefits
✔  Availability in key distribution channels
We look forward to watching, experiencing, and supporting the next generation of sustainable founders and their companies scaling up over the coming years in the UK and Europe. If you would like to discuss any of the results of our survey, have a chat about the future of sustainability, or introduce your company then please reach out to us (investments@burda.com)!