UK consumer surveys: what makes us all tick?
Last but not least in our BPI consumer survey series we look at Food – What are the current trends in food delivery? Check out our latest report below based on the feedback from over 2,000 UK consumers. Similar insights for Sustainability, Finance, Health & Food available on our website & here.
Food
As the Covid pandemic spread to the UK in early 2020, consumers had to rapidly change the way they buy and consume food. In an industry which had been a laggard when it comes to digital adoption, things changed overnight as online grocers and food delivery platforms helped consumers stay safe at home. Fast forward two years later, we wanted to understand how much of these new habits would stick, and the lasting implications for the UK food industry. Here are some of our findings.
1. Consumers have found renewed interest in cooking, but love their occasional food delivery
UK consumers say they increasingly cook from scratch! 56% do so most days of the week and 92% at least once a week. This is the fastest growing food consumption habit in our survey in the second half of 2021, ahead of ordering food delivery, cooking from pre-made meals, cooking from meal-kits and buying takeaway. This renewed interest in cooking has interesting implications for companies in the food space and will provide growth opportunities in areas such as grocery shopping and media content.
Next to cooking, food delivery has gained massive adoption in the past decade, to the point 28% of UK consumers say they order at least once a week, and 56% at least once a month. But there remain significant opportunities for growth. First, while 85% of consumers aged 18-35 years old say they order at least once a month, this share falls meaningfully amongst older age groups. We expect food delivery to grow structurally as age cohorts mature and entrepreneurs perhaps find ways to get millennials' parents more engaged. Second, while 74% of Londoners say they order at least once a month, this share falls to 68% in other urban areas, 52% of suburban areas and 37% of rural areas. We see material room to grow in smaller cities, suburban areas and rural ones which are still underserved.
We note that, while the pandemic has stimulated food delivery as an alternative to eating out during successive lockdowns, there was no significant change to order frequency in periods of re-opening and normalisation. Food delivery usage has now achieved a higher baseline as consumers prove to love their occasional restaurantgrade meal in the comfort of their homes.
2. Online supermarket chains, Amazon / Ocado and differentiated grocery shopping models (e.g. q-commerce, specialty) were the key winners of the online grocery market 'pull forward'
Online grocery rapidly gained adoption in 2020 as consumers were seeking safety amidst the pandemic; it culminated at 12% of all UK food retail sales in Jan 2021 according to ONS data. Although it has since adjusted down with successive reopenings and social restrictions easing, it has stabilised at a high baseline of 10%, roughly twice its pre-Covid level. In fact, our survey points to new consumer habits built during that period, with online grocery shopping recognised as very convenient and increasingly considered as complementary to stores.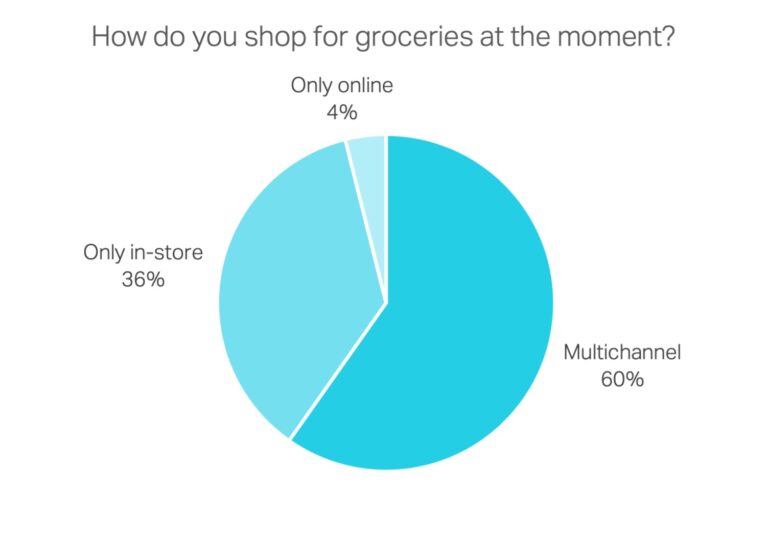 Interestingly, incumbent grocers have successfully adapted to this 'pull forward' and maintained their domination in the online channel. 87% of UK consumers say they use Tesco, Sainsbury's, Asda and other supermarket chains for online grocery shopping. As much as pre-existing habits and familiarity to these leading national brands drive traffic, offerings remain strong online with easy-to-use websites/ apps, large assortments (incl. private label products consumers may have a fondness for), competitive prices and regular deals, as well as reliable delivery experiences. As such, capturing online share from incumbent grocers will require challengers build either a radically better (hard), or differentiated value propositions, and break consumer habits.
Building a radically better value proposition can be afforded by the likes of Amazon and Ocado, with significant resources dedicated to competing on brand, product, assortment, prices and delivery. Amazon has done so successfully through M&A (Whole Foods), partnerships (e.g. Morrisons) and building on its best-in-class core value proposition (including Prime). As a result, it has now attracted a significant share of UK online grocery and is one of the fastest growing companies in our survey. As for Ocado, a pioneer in the space being founded in 2000, as much as a tech leader with state-of-the-art distribution centres, it continues to attract a high share of respondents.
Building a differentiated value proposition, through clear differentiation and business model innovation, will be more interesting for new entrants. As an example, 'quick commerce' (see our portfolio company Zapp), dramatically improves convenience through business model innovation, with delivery times compressed to minutes (vs. days). This category, which emerged just over 12 months ago in the UK, is now used by 7% of respondents across the country, and an impressive 18% of respondents in London. Specialty grocery can also differentiate enough to attract meaningful market share. Fresh specialists (such as our portfolio company Oddbox, on a mission to help consumers tackle food waste) are also used by 7% of respondents in our survey (and as much as 11% in London).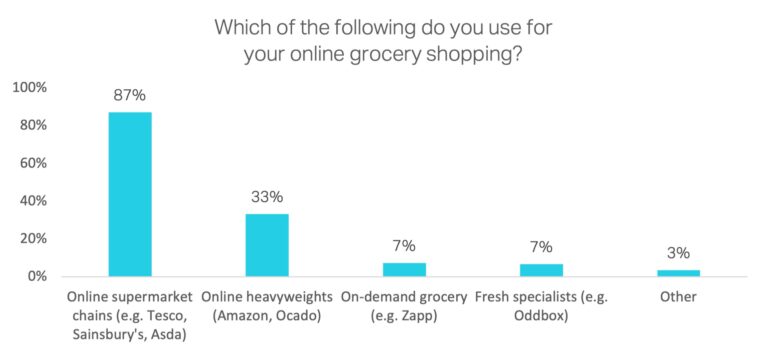 3. Food delivery continues its consolidation around leading platforms but a large opportunity remains for direct-from-restaurants
Food delivery customers predominantly use platforms such as Deliveroo, Uber Eats, Just Eat and HungryPanda (one of our portfolio companies) when they fancy a restaurant-grade meal at home. Approximately two thirds of respondents mention they use platforms, where they find choice, great digital experience and reliable delivery. Interestingly, platforms are also growing faster than direct-to-restaurant in our survey, which points to the increasing dominance of digital intermediaries leveraging network effects and leading brands to consolidate demand.
However, c.50% of food delivery customers also mention they like to order directly from restaurants, with that share being stable in the second half of 2021. While the likes of McDonald's and Domino's have well-known brands and naturally drive traffic to their digital propositions, we're excited to see smaller / more local restaurant owners leverage the breadth and depth of software solutions available in this market to sell directly to consumers and maintain some form of independence.
Conclusions
The food industry has rapidly evolved in the past couple years to capture an increasingly compelling online opportunity. While UK consumers have become keen users of online grocery apps to cater for their regular shopping and renewed interest in cooking, they occasionally like to treat themselves with a restaurant-grade meal at home. Food delivery has remained stable in the months following lockdowns. We continue to see plenty of opportunities to innovate in the food industry, with several interesting ways to differentiate in online grocery shopping and significant whitespace still in food delivery.
We look forward to watching, experiencing, and supporting the next generation of fintech founders and their companies scaling up over the coming years in the UK and Europe. If you would like to discuss any of the results of our survey, have a chat about the future of finance, or introduce your company then please reach out to us (investments@burda.com)!